Mountain Hospice is a Proud Partner
of We Honor Veterans
Exceptional Veteran Hospice Services Available in North Central WV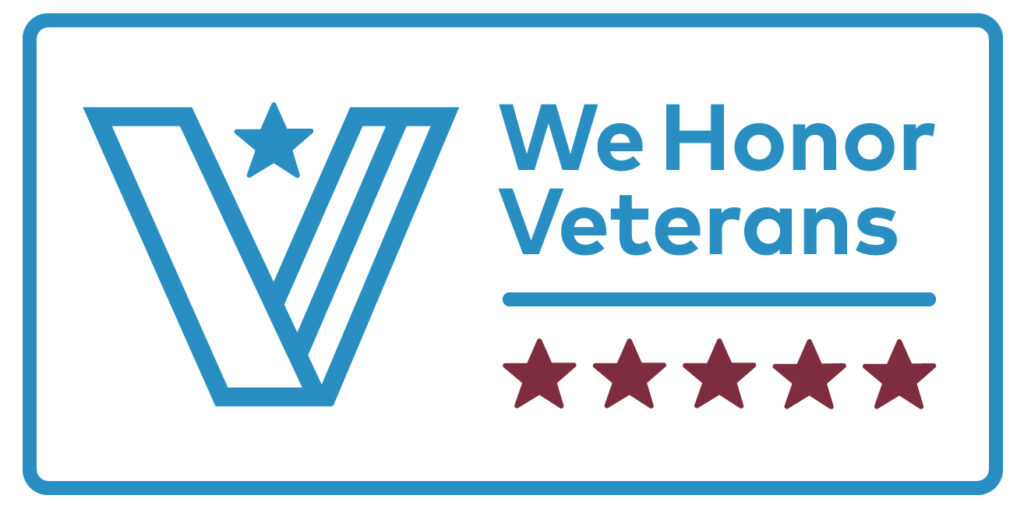 Mountain Hospice is recognized as a national partner of We Honor Veterans. We are proud to have been the first hospice organization in our region to be granted the prestigious 5-star designation from our national We Honor Veterans partner.
Our 5-star level designates Mountain Hospice as a hospice organization which has worked to increase available services to our veterans, as well as improve the quality of care that our veterans receive in the communities that we serve.
Enhancing Life Quality for Veterans Who Sacrificed to Serve Our Country
Our caring and dedicated staff has received extensive training specifically addressing the needs of our veterans. Mountain Hospice is proud to build and strengthen relationships with veteran organizations and veteran healthcare facilities. We are committed to enhance the quality of life for our veterans. We honor and recognize those who have given and sacrificed so much to serve our country.
Veteran Pin and Certificate Award Ceremony for Mountain Hospice Veterans
As a gesture of appreciation, we provide our veterans with a pin and a certificate to honor and thank them for their military service. Our veteran pinning award ceremony is something we are very proud to offer to our hospice patients who have served in the military. Many of our veterans and their family members have expressed to us how much it means to them to be honored and recognized in such a way.
Hospice Service for Veterans with Honor, Dignity, and Respect
We feel deeply touched by our veterans and want to do all we can to aid them in their time of need. We believe that our veterans deserve honor, dignity, and respect. Our caring and highly competent staff is able to provide our veterans with the best possible end-of-life care.
Mountain Hospice is an excellent choice to provide all your veteran hospice service needs. Call our toll free 24-hour line at 1 (888) 763-7789 to learn more about the services we provide to enhance our veterans' quality of life.
For more information on the We Honor Veterans program, please visit:
https://www.wehonorveterans.org/