BELINGTON — Social workers at Mountain Hospice help provide support and education to patients and families who are facing a terminal illness. In addition, they help with advance directives and making patients' wishes at end-of-life known.
The social workers at Mountain Hospice often go above and beyond their duties as social workers, spending a little extra time with a patient or family member who needs extra care. Or you may hear of a social worker who helped a husband and wife renew their wedding vows after 63 years of marriage or take one last vacation together to the beach. You may hear of a social worker who helped get a ramp built for a patient so she could get outside and enjoy her garden and grandchildren. A social worker may help a veteran get the services they deserved through their local Veterans Affairs Clinic. The social workers at Mountain Hospice are touching the lives of the patients and families each day in their own special way. Mountain Hospice social workers stand up for patients and families.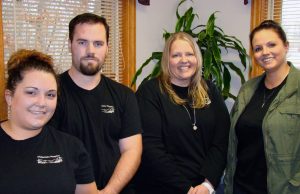 Social workers make a difference in people's lives every day. The 2017 National Social Work month theme is "Social Workers Stand Up." Social work contributions strengthen communities, expand options and foster changes that improve life for everyone. Social workers stand up.
"The social workers at Mountain Hospice go above and beyond each day for the patients and families we serve. They are not just social workers to our patients. You can see that social work to them is not just a job; it is a passion and a chance to touch someone's life and change it for the better," said Jessica McHenry, MSW, LSW director of Quality & Compliance. "I am truly blessed to have such a highly skilled and compassionate team of social workers here at Mountain Hospice."
For more information about the social workers at Mountain Hospice and how they may be able to help you and your loved one, call Jessica McHenry at Mountain Hospice at 304-823-3922