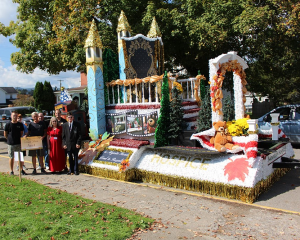 Mountain Hospice gains top honors with their float during the Mountain State Forest Festival. This year's theme, "The Majestic Roads Lead to Royalty", showcased husband and wife team Marvin and Sharon Brown. This husband and wife team, both volunteers at Mountain Hospice, adorned the top of the float as our royalty portrayal.
The body of the float was designed with roads weaving throughout, with the Elkins, West Virginia Mountain State Forest Festival Train and United States Flag anchoring the rear of the float.
Mountain Hospice won first in both amateur and professional
divisions, receiving the "Grand Silvia Award".
Mountain Hospice, "Comfort and Compassion When It's Needed Most".
(304) 823-3922